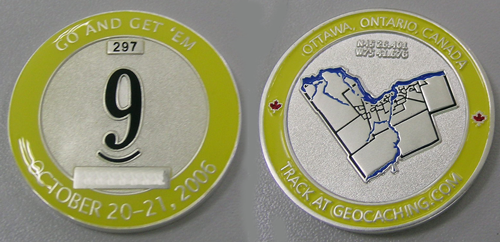 The Go And Get 'Em 9 geocoin is a limited edition trackable geocoin. It is 1.5" in diameter and 3mm thick with a satin silver finish.
The front of the geocoin features a pool ball motif with a large 9 in the centre of a field of satin silver metal. It also has the unique serial number (starting at 201) and the Geocaching.com tracking number. The event's name and date appear in raised metal letters against a yellow background.
The back of the geocoin features an outline map of the City of Ottawa showing the Ottawa, Rideau and Jock rivers in blue. The area surrounding the map is recessed and has raised coordinates representative of Ottawa. Again, both the map and the surrounding area are satin silver metal. Surrounding this is a yellow ring with raised metal letters indicating where the event took place and the obligatory reference to geocaching.com. Two sparkly red maple leaves adorn the 3- and 9 o'clock positions.
Only 125 GAG9 geocoins are being made available for sale. Additionally, four polished chrome geocoins are being produced. Known as "Creators' Reserve", these four geocoins are not available for sale or trade. No additional production runs are planned for the Go And Get 'Em 9 geocoins.
The GAG9 geocoins sold for $9.25.